Hong Kong! Often thought of as a short stopover destination, there is plenty to do if you want to stay longer. I was recently lucky enough to spend 5 days/6 nights exploring this vibrant, bustling destination.
Hong Kong is made up of the Kowloon Peninsula, and 263 other islands bigger than 500m2. The largest is Lantau Island (home to the airport and Disneyland), and Hong Kong Island the second. Mainland Hong Kong is often the most popular choice for travellers to be based, but with advice from Navy (our Director!) I decided to stay on Hong Kong Island. From the Island there is an underground passageway to the Tsim Sha Tsui area (popular for shopping and bright lights!), the famous Nathan Road Shopping District, markets, and a vibrant nightlife. With one of the best transport systems in the world (Subway, Tram, and Bus!), it is easy to explore Hong Kong.
On my first full day in Hong Kong I joined the Deluxe Half Day Tour. The Guide transfers you from the Hotel Lobby (so convenient!) and takes you to the Victoria Peak Tram Station. The Station was bustling, but our fantastic guide had us on the Tram within 10 minutes. It's a short 10 minute Tram ride (and feels steeper than it looks!), then you can continue climbing to the Observatory Deck. On each level on your way to the Deck, you can wander through gift stores and restaurants. The view from the Observatory Deck was mesmerising, and as busy as it can be, there are plenty of opportunities to view the magnificent skyline. We then descended by Coach, learning about the history of Hong Kong, and stopping at a jewellery factory. Our next stop was a local fishing village where we took a Sampan Boat Ride, driven by mostly local elderly women who use the profits to support the village. The final stop was the Stanley Street Market, perfect for shopping for souvenirs and gifts! You can also pick up the latest electronics to take home.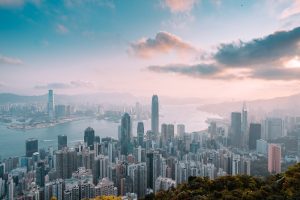 The next day was overcast, but we still ventured out to Sneaker Street and the famous Ladies Market in Kowloon. Sneaker Street is a haven for sports fans and the Ladies Market is not just for ladies. The atmosphere is electric, with rows and rows of stalls crammed together selling everything from children's toys, to the latest fashions, and electronics. Be prepared to bargain to get the best price (it's expected!).
My last two days were dedicated to theme parks. First up, Disneyland! The layout is similar to other Disney Parks, with the park made up of different themed areas (such as Adventureland, and Main Street USA). As the weather was drizzly we were lucky that the park wasn't at capacity, and lineups for rides only averaged between 5-15 minutes. I loved Disneyland, from the addictive Caramel Popcorn to the thrilling rides, and traditional character Meet & Greets! I was also lucky enough to see a shorter version of the Broadway Show the Lion King. It was full of acrobatics, amazing singing, and mesmerising fire dancing! I'd definitely recommend a visit to Disneyland for all ages.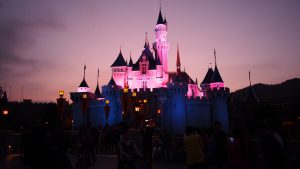 The second theme park I visited was Ocean Park. I was picked up from the Hotel by my Guide and drove approximately 20 minutes to Ocean Park. A marine mammal park, oceanarium, animal theme park, and amusement park, all in one, there is plenty to see and do. With the park divided in to two main sections, across the top and bottom and of a mountain with access via Cable Car or Train Ride. The Cable Car is an exhilarating 15 minute ride over the mountains and ocean, giving you a fantastic view of the beautiful scenery. At Ocean Park you can also see the majestic Panda, unfortunately I missed them as they were asleep in their enclosures at the end of the day. I was then met by my Guide and transferred back to the Hotel.
My final night was spent running around Hong Kong trying to eat as much as possible! With Chinese, European, Japanese, Korean, and other influences, there is plenty to try! From traditional fried rice, to delicious baked egg tarts, and sweet milky bubble tea, my stomach was bursting when I finally returned to the Hotel.
While my holiday to Hong Kong was too short (I would have loved to stay for an extra few days!), it was full of amazing highlights. I had an amazing time, making wonderful memories, and exploring a destination so different to home, yet still felt familiar and comfortable. If you are interested in different cities with their own unique fusion of cultures, a contrast of old and new, and delicious cuisine, Hong Kong should definitely be on your list of places to visit!
Tia Pai | Wholesale Travel Consultant – Inside Sales
Travel Journal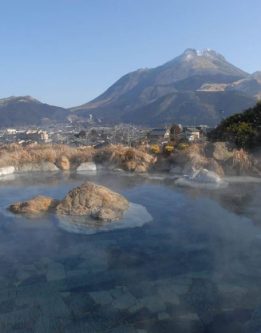 Kyushu is Japan's third largest island; it has seven distinct prefectures – Oita being one of them. Surrounded by the mountains and the sea, nature-rich Oita Prefecture is best known for hot springs. It ranks the highest in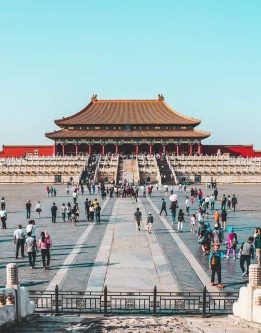 Last month I (Kim from the MW Tours Marketing Team!) was lucky enough to travel to the beautiful Jiangsu Province in China, with five fantastic Travel Agents from Cairns. We flew from Cairns to Shanghai on
Let's talk tours!
Get in contact with our friendly travel experts and start your journey today!