Destinations on the tour
Seoul
>

Gongju

>

Jeonju

>

Gwangju

>

Yeosu

>

Busan

>

Jeju

>

Gyeongju

>

Daegu

>

Pyeongchang & Mt Seorak

>

Seoul & DMZ

South Korea is often overlooked as a tourist destination, however it is a country with a rich and significant history, beautiful natural scenery, and friendly local people. The architecture is unique, and many traditional folk villages still exist today. Our Korea Sparkling Tour takes you to all the most interesting and stunning sights, from the capital city Seoul, to the picturesque island of Jeju. You will stay in fantastic accommodation, travel in comfort by coach and domestic flights, and experience the wonder of this beautiful country!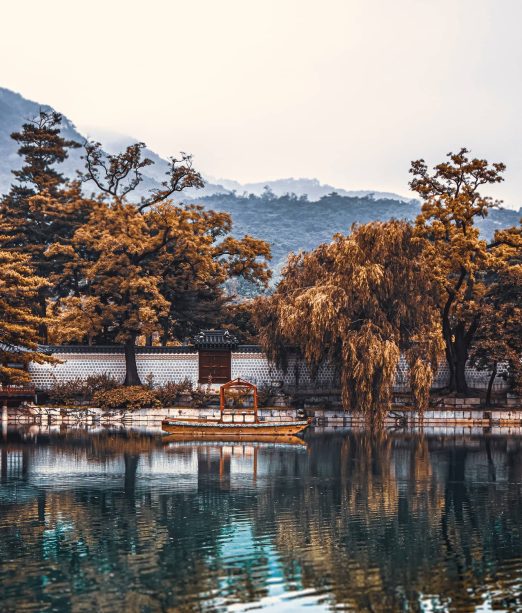 What's included in the tour
Accommodation
12 nights quality (4 star) accommodation with daily breakfast
Flights
Flight from Busan – Jeju (return)
Transport & Fees
All transportation, daily tours and admission fees
Professional Guides
Professional English speaking guides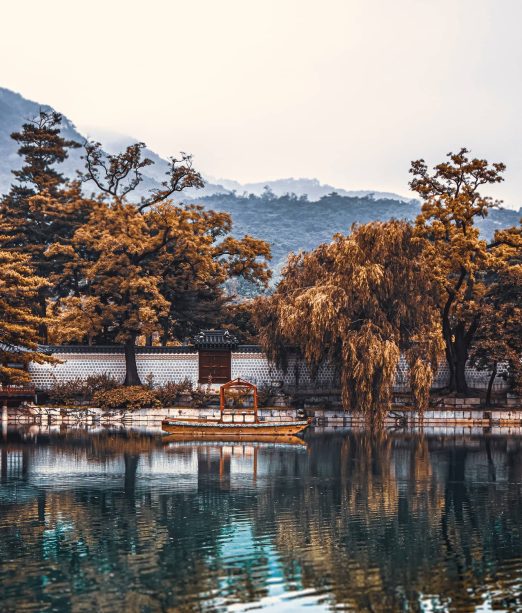 Korea Sparkling Tour
Highlights from our Korea Sparkling Tour. *Please note information at the end of the video may not be accurate, contact customer service for the latest pricing, duration, and inclusions.
Gamcheon Cultural Village, Busan.
Korean Street Food, Seoul.
Tour Highlights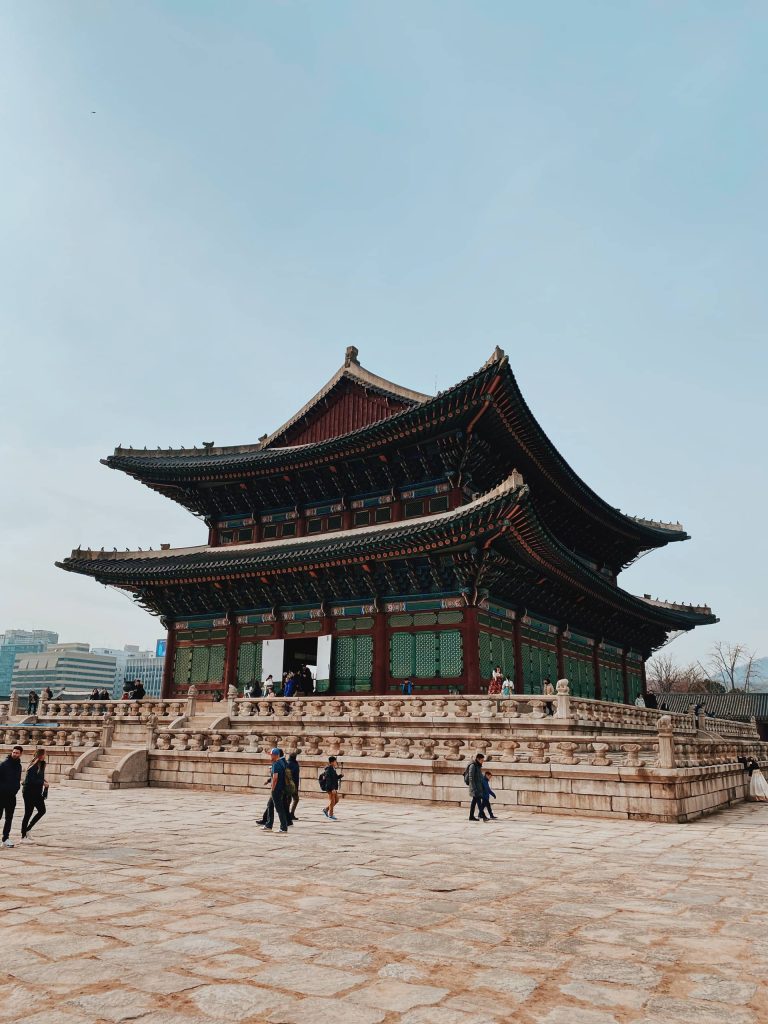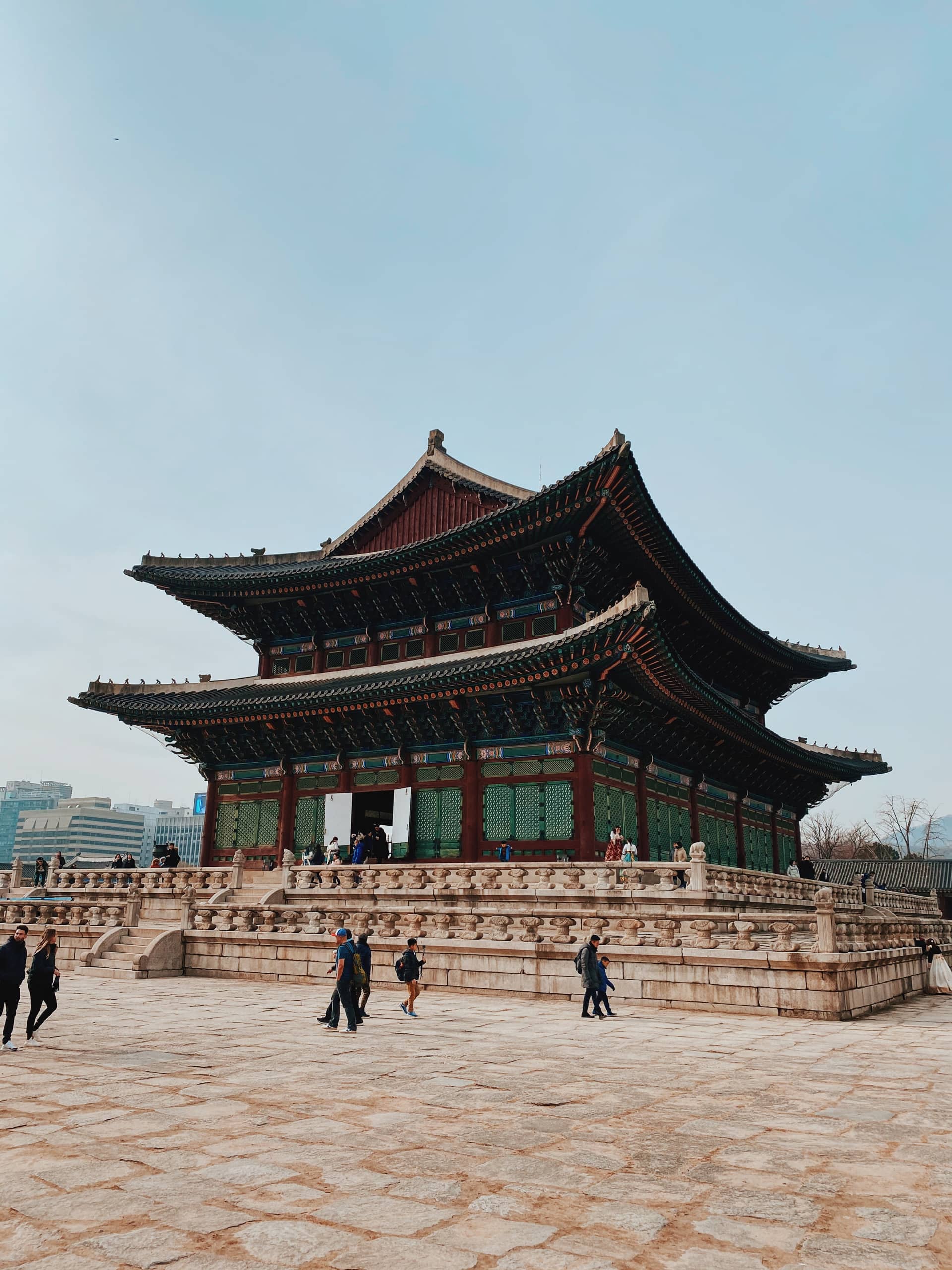 Gyeongbokgung Palace, National Folk Museum and Korean Folk Village
Tour Seoul, including Gyeongbokgung Palace, National Folk Museum and the Korean Folk Village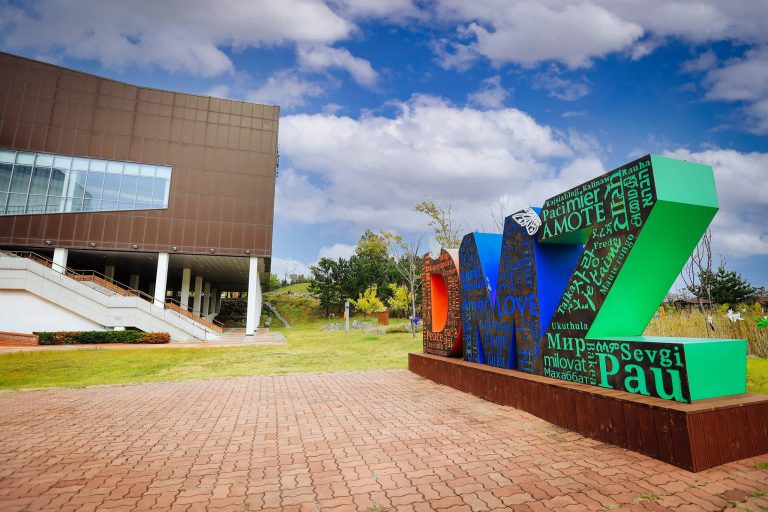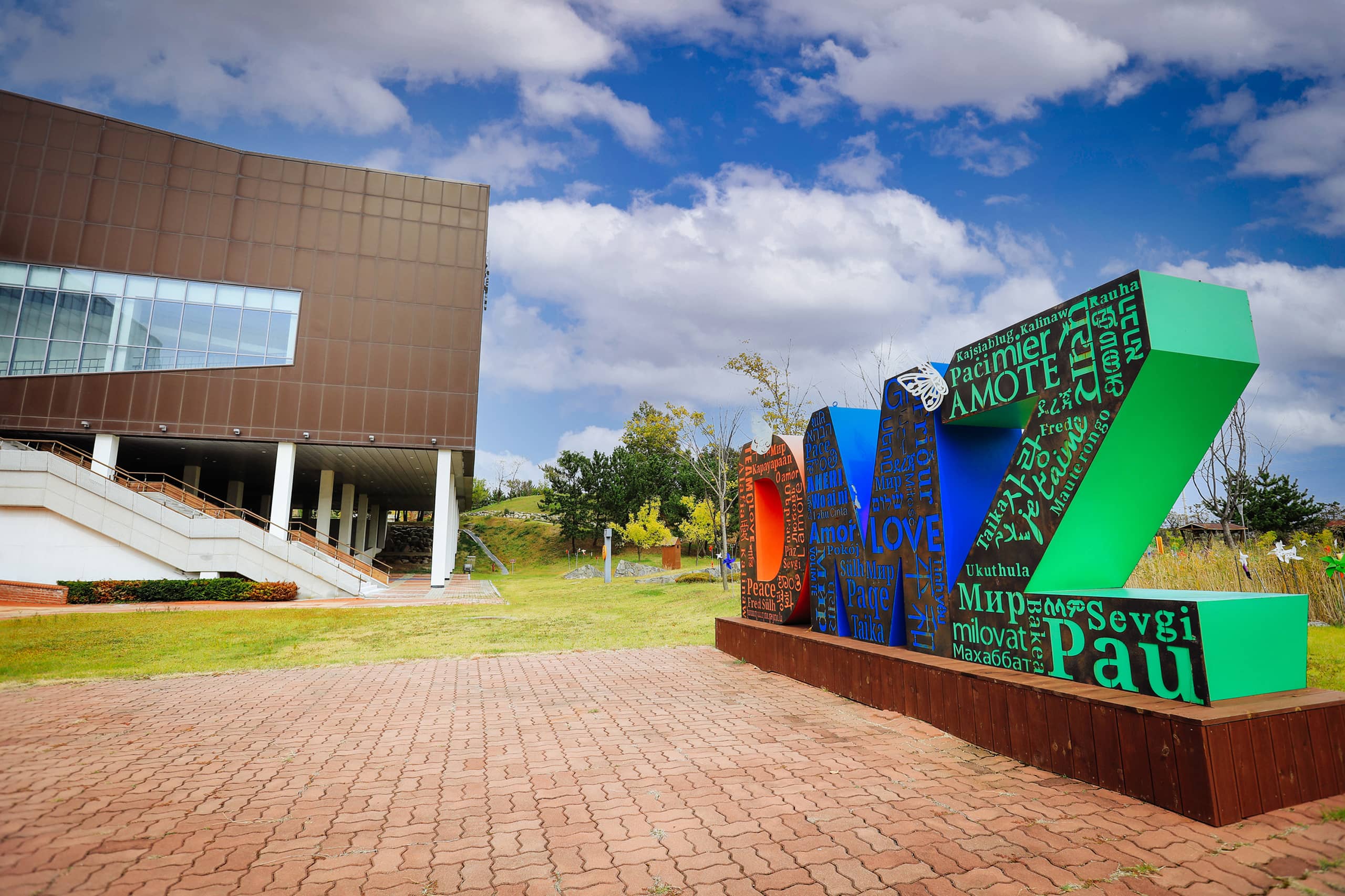 Korean Demilitarised Zone (DMZ)
Visit the famous Korean Demilitarised Zone (DMZ)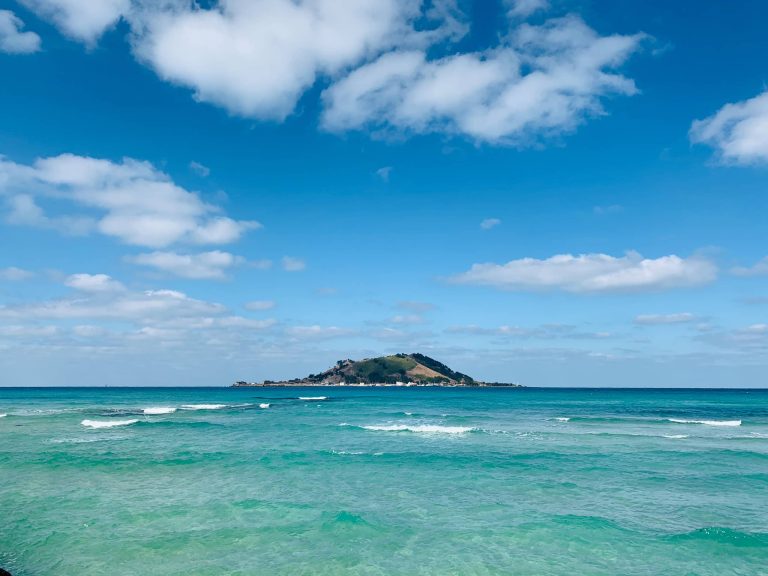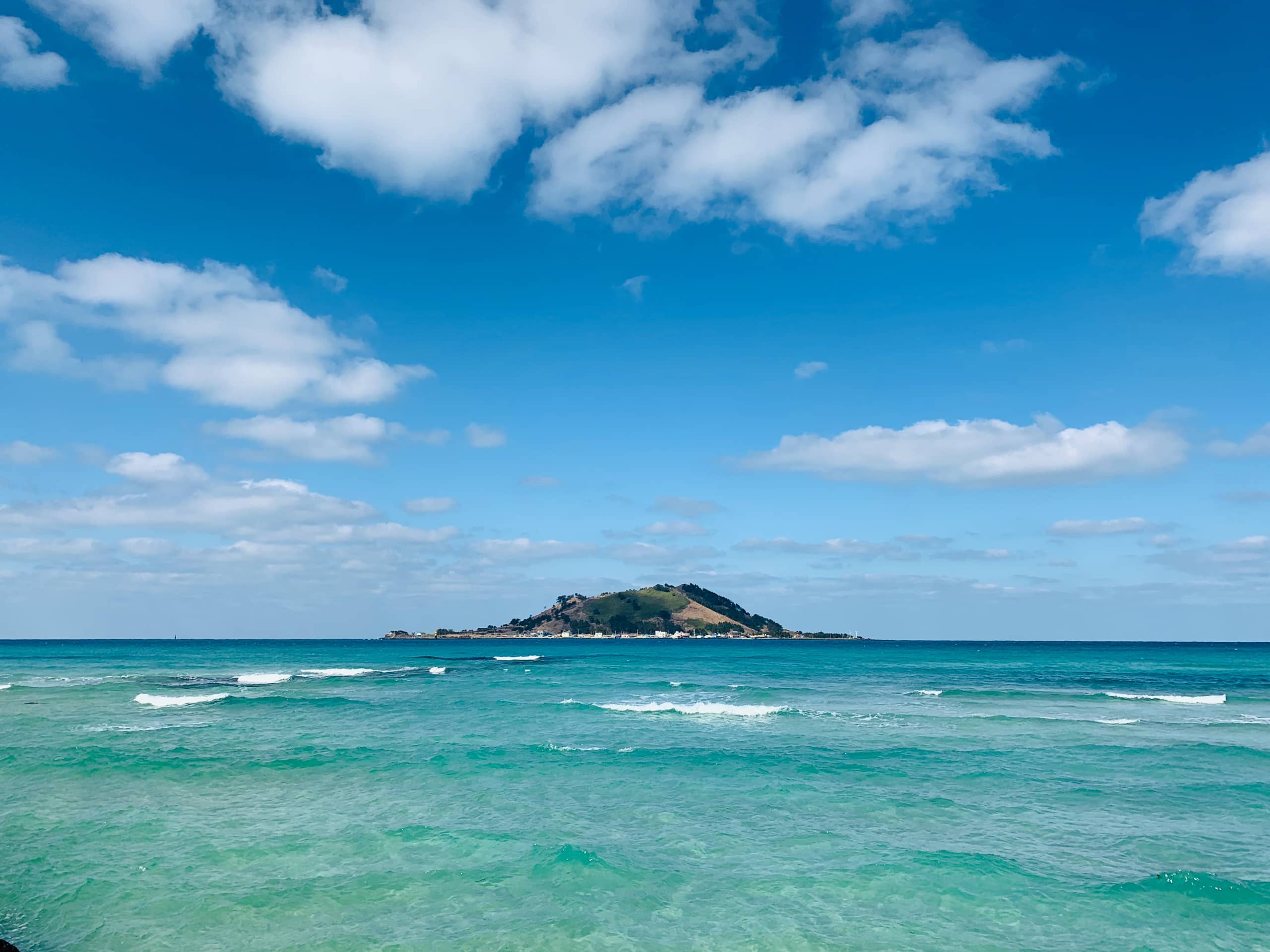 Jeju Island
Sightsee on beautiful Jeju Island visiting Cheonjeyeon Falls and Yongmeori Beach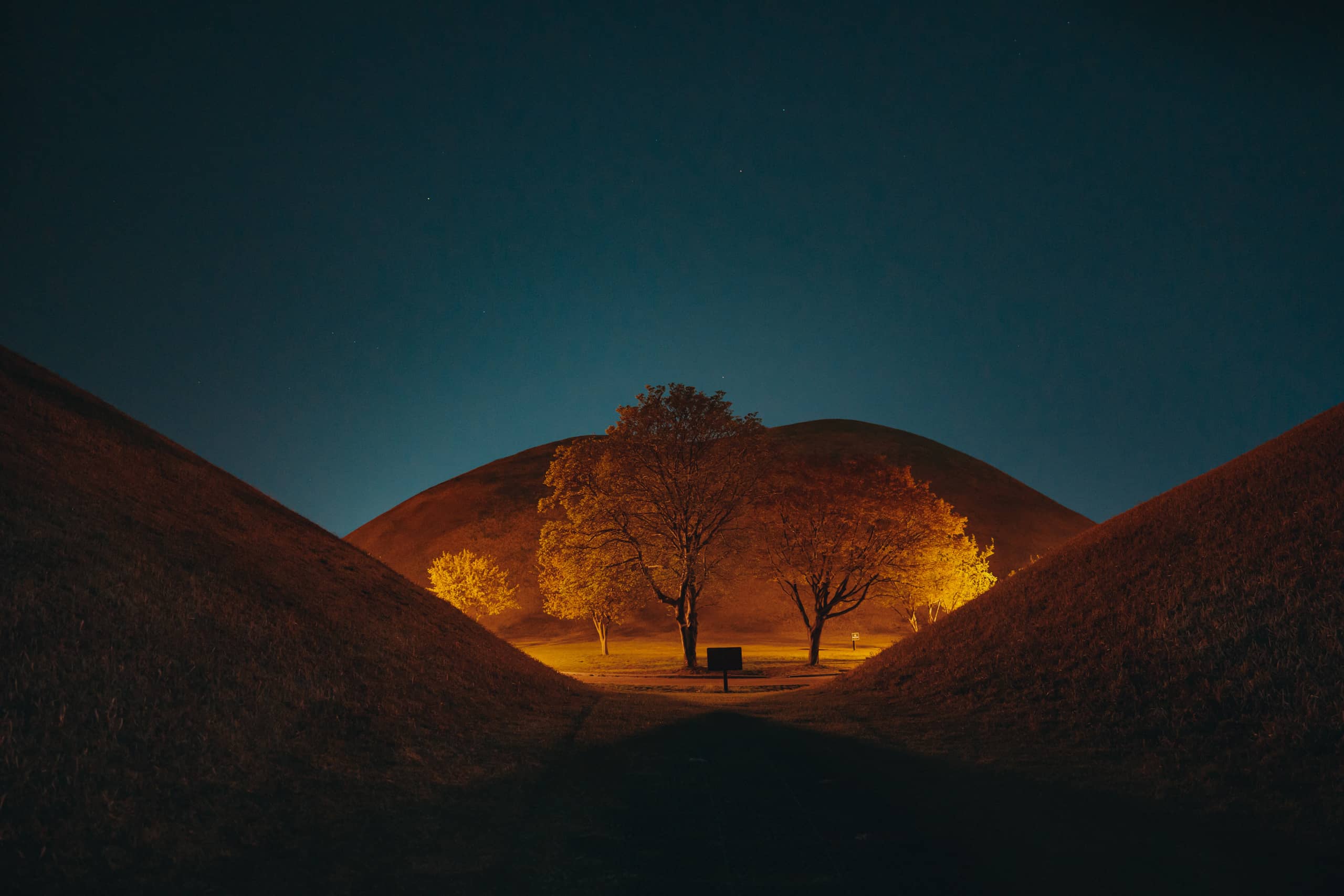 Gyeongyu
Explore the Gyeongyu, a museum without walls
Tour Map & Dates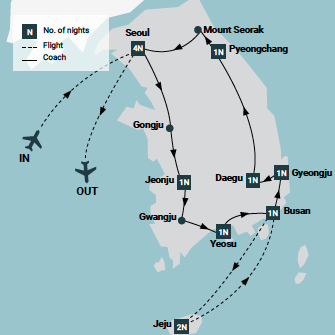 Departure Dates
2023 & 2024: Weekly – Friday arrival
Tour Itinerary
Arrive in Seoul. Check in to your hotel for the night. The rest of the day is free at your leisure.
Enjoy the morning visiting Gyeongbokgung Palace and seeing the Royal Guard Changing Ceremony, National Folk Museum, and more. Learn about the Joseon Dynasty at the Korean Folk Village before returning to Seoul for the evening.
Travel to Gongju and explore the Tomb of King Muryeong and Gongsanseong Fortress. Continue to Jeonju and wander through the traditional Hanok Village.
After breakfast you will continue to Gwangju, home of modern democracy in Korea. Visit the Bay Garden in Suncheon, then continue to the port city of Yeosu and explore before checking in to your hotel for the night.
Explore Jinjuseong Fortress, famous for its link to the Japanese invasion. Travel to Busan for your flight to Jeju Island.
Enjoy a day of sightseeing in beautiful Jeju. You will visit all the most spectacular sights, from Hyupjae Beach to Cheonjeyeon Falls (also known as the Pond of God).
After breakfast we visit a local farm for horseback riding like Korean royalty. Continue to Seongeup Folk Village to learn about Jeju Island. After lunch visit the Haenyeo Museum to learn about the famous local female divers. Explore more of the spectacular sight of Jeju before transferring to the airport for your flight to Busan.
Explore Busan, wandering beautiful Haeundae Beach before travelling to Yonggungsa Temple. Visit Gamcheon Culture Village and famous Jagalchi Fish Market. Continue to Gyeongju to see Gyeongju Donggung Palace and Wolji Pond before checking into your hotel for the night.
Today you will explore Gyeongju, a museum without walls. There are numerous World Heritage Listed Sites here. Afterwards you will transfer to Daegu for the night.
Marvel at the ancient treasures of Haeinsa Temple, then travel to Andong Hahoe Village and admire the traditional architecture of the existing village. Transfer to Pyeongchang for the night.
Travel to the UNESCO Biosphere Preservation District of Seoraksan National Park, home to rare flora and fauna. Take the cable car to Gwongeumseong Fortress*. Afterwards travel to Seoul and check in for the night.
Tour the famous Korean Demilitarized Zone, the border between North and South Korea. The afternoon is free at your leisure.
After breakfast the day is free at your leisure until it is time to transfer to the Airport for your onward flight.