Destinations on the tour
Zhangjiajie
>

Yangtze River

>

Chongqing

>

Dazu County

>

Chengdu

>

Leshan & Mount Emei

Wander through the beautiful natural highlights of China! From the Giant Pandas in Chengdu to the floating pillars of Zhangjiajie, China is filled with natural marvels that are unique to this beautiful country. Travel along the majestic Yangtze River on a luxurious 5* cruise, and enjoy a wonderful experience throughout your entire journey.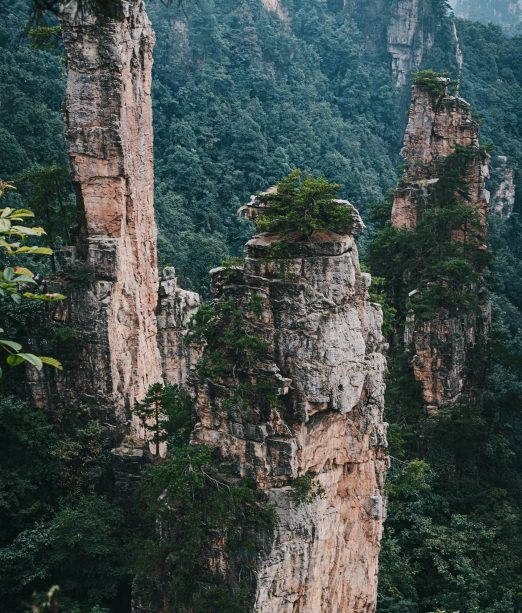 What's included in the tour
Accommodation
10 nights quality (4-5 star) accommodation with daily breakfast accommodation with daily breakfast
Cruise
4 night 5* Victoria Cruise (Upstream) Please note that the cruise itinerary is subject to change.
Transport
2nd class high speed train (Chongqing – Chengdu)
All transportation, daily tours and admission fees
Tipping
Tipping for guide and driver
Professional Guides
Professional English speaking guide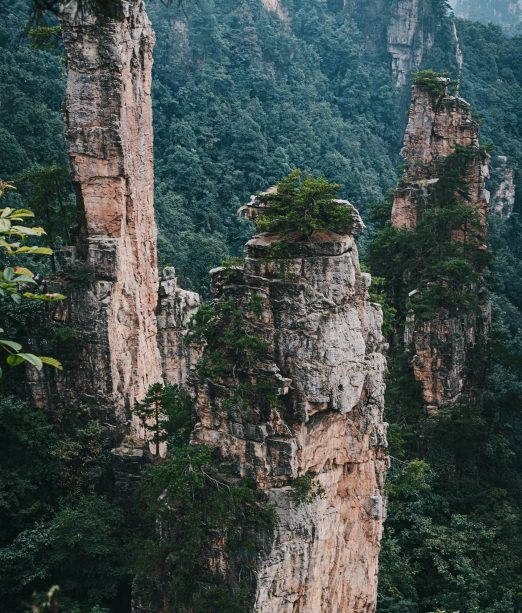 Tour Map & Dates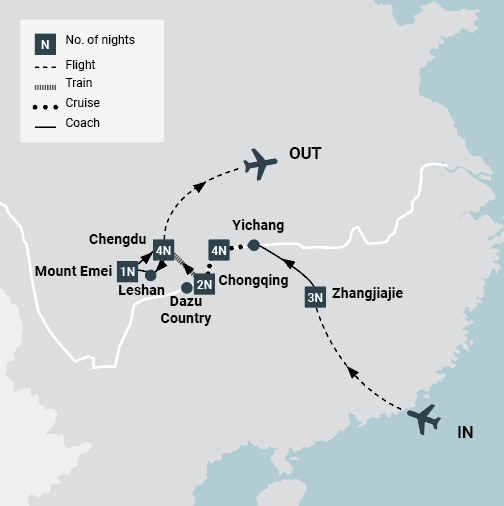 Departure Dates
2024: Every second Friday from 01/03/2024
Tour Itinerary
You will be met on arrival in Zhangjiajie and transferred to your hotel to check in for the next two nights.
Explore beautiful Zhangjiajie, including the summit of Huangshizhai, crystal clear waters of Golden Whip Stream, Huanglong Cave (the largest in Asia), and the stunning Tianzishan Scenic Area.
Admire the breathtaking scenery of subtropical forests, cascading waterfalls, mountain ranges, and majestic valleys filled with floating pillars. This evening you will enjoy a fantastic Meilixiangxi Show.
Enjoy a scenic drive to Yichang. Enjoy a delicious local dinner, then board your luxurious 5* Victoria Cruise.
Wake up with tai chi and a buffet breakfast. Tour the Three Gorges Tribe* and Three Gorges Dam*. Enjoy a delicious buffet dinner and entertaining Captain's Welcome Party.
Today you can enjoy a shore excursion to Shennv Stream, then cruise through the Wu and Qutang Gorges. Tour the White Emperor City*, then relax for dinner and evening entertainment.
After breakfast you can venture on shore to the Shibaozhai Pagoda. In the afternoon be entertained on board, with a spectacular Yangtze Pirate Show after dinner.
Enjoy your last breakfast on board before disembarking around 8:30am in Chongqing. Explore the city on a day tour, then check in to your hotel for the night.
Travel outside of the city to Dazu county and visit Rock carvings built in year 650 in the Tang Dynasty. In the afternoon, take a tour to the Cikiqo Ancient Town before returning back to Chongqing.
Take the highspeed rail to Chengdu. You will be met on arrival and transferred to your hotel to check in. Enjoy the rest of the day at your leisure.
Get up close and personal with the famous Giant Pandas at the Reserve. Return to Chengdu for lunch and wander the distinct alleys in Jinli street.
Drive to Leshan City and see the famous Giant Buddha carved in to the cliff face. Afterwards you will travel to Mount Emei.
Tour Mount Emei, visit the famous monastery, and explore the beautiful landscape. Return to Chengdu in the afternoon.
Learn about local cuisine at the Sichuan Cuisine Museum with a fantastic cooking demonstration. In the afternoon visit Dujiangyan, the ancient irrigation system built more than 2,000 years ago.
Enjoy your last delicious breakfast and spend the day at your leisure until it is time to transfer to the airport for your onward flight.